I am so excited to highlight in our monthly local business spotlight for October, Eighty 8 Donut Café, who just opened their brick and mortar shop, after many wonderful years as a beloved food truck and café at Sugarloaf! Located at 225 Federal St in Portland, you have to check out this local business this fall!
Check out a short reel from our visit! Click Here
Served hot and fresh by the 6-pack or in their "Sugar Rush" 25-donut variety box, these mini donuts are incredibly addictive. Classic sugar dusted cinnamon sugar donuts and their hand dipped Maine maple treats are some of my favorites – or if you're feeling adventurous, I'd recommend trying one of their specialty flavors like "Bamm Bamm" which is made with Fruity Pebbles!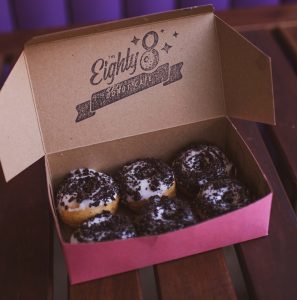 Proudly stating they are "not responsible for donut addiction," Eighty 8 Donut Café is fun, original and delicious!
You can even book their food truck for special events (donuts over wedding cakes, anyone?)
Eighty 8 Donuts are an amazing addition to the local business community in Portland – check them out at their new Federal Street location!
Check their Instagram @eighty8donuts
or their website https://www.eighty8donuts.com/
for their food truck schedule!